Weekend cycling around lake Lygnern
Take a detour from Kattegattleden by the sea, bike inland in to the south western area of Sjuhärad and enjoy the picturesque nature around beautiful lakes. During the weekend trip, we combine two of the most attractive bicycle and hiking routes in the area with a pinch of culture and history, including two charming accomodation places and good local food.



Nature paradise
The whole area is a paradise for anyone wanting to enjoy a bicycle holiday at their own pace since among the nature reserves there are a handful of tours and bicycle tracks and also a well maintained network of scenic hiking routes to explore. You will mostly be biking on tarmac but there are also some gravel roads and smaller streets with some traffic. It's hilly in places which means that a basic level of fitness is recommended but it's not all challenging since the lengths vary from approximately 30 to 50 km per day.

Some samples
The detour starts and finishes at Fjärås bräcka, near Kungsbacka, Tjolöholm's castle and only 2,6 kilometres from Kattegattleden. Bike along lake Lygnern and stop for lunch/"fika" at Naturrum at Fjärås Bräcka or at Ramhultafallet's nature reserve. The road also includes lovely beech forests.
You'll then arrive at Sätila and Sätila Sand which is a distance of 18,7 km. Here you will find a beach with the longest oak jetty in Europe. You continue to Pensionat Kajutan where you can choose a relaxing spa moment before the evening's locally sourced dinner and then a good night's sleep. Breakfast awaits the next morning and you will be supplied with a lunch box for stage two;





Sätila–Torp–Hyssna: 10,1 km, where Hyssna's culture hightlights are the goal.




On this day you can choose if you want to hike or bike. Along the hiking route Hyssnaleden you will find two nature reserves and beautiful view points, a 12th century stone church and two distinguished water mills. In Hyssna you'll also find Hyssnaturen, a 38 km long bike ride, should you wish to pedal on in the lovely forest countryside.




Accomodation



The first night is spent in Sätila at Pensionat Kajutan in the heart of the village. Choose a relaxing spa moment before the evening's dinner at Restaurant Båthuset, a dinner that has been prepared using locally sourced ingredients. Breakfast awaits the next morning and a lunch box is supplied for stage two.
Check in the second night is at Kvarnen in Hyssna, The Millers' family Swan brand hotel. An eminent water mill, smithy and saw mill next to a waterfall. Here, there's yet another opportunity to enjoy a lovely spa moment before the evening's dinner, yet again prepared with locally sourced ingredients, before enjoying a good night's sleep.
Breakfast is enjoyed the next day and lunch box supplied for stage three which is
Hyssna – Sätila: 7,5 km, biking on the southern side of Lygnern,
Sätila – Tostared – Fjärås bräcka: 26,2 km and re connecting to Kattegattleden, 2,6 km.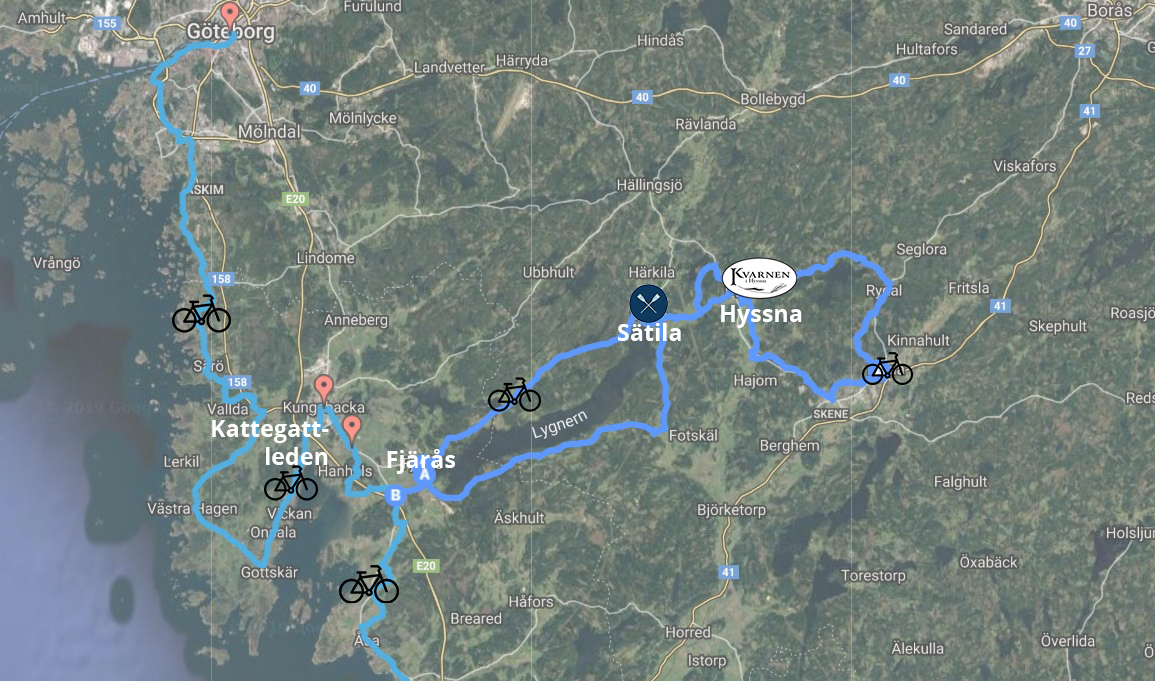 Travel facts

The total biking route distance on the Sjuhärad detour is 67,7 km
Here's a digital map for the tour.

Stage 1 – Kattegattleden–Fjärås bräcka–Lygnern's north side to Sätila
Distance; 21,3 km
Surface: tarmac

Highlights: "Fika"/lunch at Naturrum at Fjärås bräcka. Make sure to check out Li grave yard at Fjärås Bräcka, which is the biggest one in Halland from the iron age.
You will go past beech forests,
Ramhultafallet's nature reserve,
Sätila sand & Europe's longest oak jetty
Check in in Sätila- Kajutan's pensionat

Stage 2 – Sätila–Torp–Hyssna
Distance; 10,1 km
Surface: tarmac, mostly gravel
Highlights: hilly farm area, meadows and gravel roads just like in the stories by Astrid Lindgren
Check in at Kvarnen in Hyssna – The Miller family's hotel – a hotel with the Swan brand

Activities to choose from:
Hyssnaleden is 40 km long. You will be handed a map and great tips on different routes:
Bokskogsrundan, 7,1 km, Hålsjörundan, 12 km, Furusjörundan, 20 km.

Hyssnaturen is 38 km –a hilly bike ride with a varied landscape, switching between tarmac and gravel roads.

Stage 3 – Hyssna–Fotskäl–Lygnern's south side–Fjärås bräcka–Kattegattleden
Distance 36,3 km
Terrain is mostly tarmac

Highlights: Flohult's beach, very hilly roads to the vally of Tostared, the most beautiful road in Mark's municipality with spectacular views of lake Lygnern
Öxared nature reserve
Gäddevik's nature reserve, beech forests

Prices: 3 days, 2 nights 2595 :-/person

Including: 2 x lunch boxes, 2 x two course dinners, 2 x over night stays with breakfast included

Spa experience can be added as an extra at both hotels
295 :-/person

Available to book:Fridays–Saturdays 10 May 2019 – 27 September 2019.

Not available during midsummer.

Lygnern: bokning@lygnern.se or 0046301-42370
Kvarnen: boka@kvarnenihyssna.se or 0046320-380 23




Public transport



To Kungsbacka you can easily travel by public transport via the Öresund train where you also can bring your bike. If you arrive by car there will be free parking at Pensionat Kajutan.